More news
The VITRIMAT consortium, consisting of all 11 Early Stage Researchers (ESRs), about 20 scientists-in-charge, supervisors, and representatives from associated partner organisations as well as the REA project officers met on 15th October 2021 for the online mid-term review.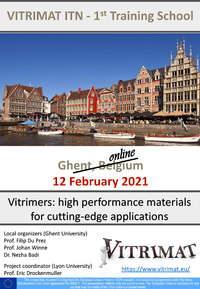 The first VITRIMAT Training school was held on 21st February 2021 through an online webinar entitled "Vitrimers: high performance materials for cutting-edge applications".
The VITRIMAT project was formally launched on 10th March 2020.